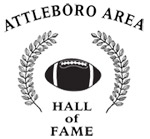 PRESS RELEASE
September 22, 2021
The Attleboro Area Football Hall of Fame will hold its 50th annual banquet and induction ceremonies on Saturday, January 8th at the Attleboro Lodge of Elks on South Main Street in Attleboro. This most unique tradition honors players, coaches, and supporters from the three rival high school football programs of Attleboro, North Attleboro, and Bishop Feehan, bringing together fiercely competitive opponents from the present and past to share in an evening of camaraderie and mutual respect.
This year's inductees from Attleboro are Mark McAloon '02, Tom Burns '14, and Luke Morrison '14; representing Bishop Feehan are Carl Slate '03, Frank Pesanello '04, and Mike Montagna '06; and from North Attleboro Joe Kummer '10, Paul Norris '12, and Eric Beckwith '13.
The 2021 Honorary Inductees are Mike McGrath'67 and Curt Smith from Bishop Feehan. Mike McGrath was a member of the school's first undefeated football team. His contributions on the field have paled in comparison to his devotion to Bishop Feehan since graduation. A selfless individual who has always asked what he can do to help. A tireless worker behind the scenes that shaped Bishop Feehan into what you see today when you drive through the campus. Without his efforts and generous contributions there is no McGrath Stadium, which is named after Mike's deceased father James. Mike can best be described as a humble man who has never forgot his faith, community, and shamrock roots. Curt Smith enters the Hall of Fame after serving on two different occasions as the head football coach at Bishop Feehan. Curt coached with integrity and class while also winning multiple Superbowls. Curt stepped down as the Head Coach in the mid 2000's but returned in 2010 to win another Superbowl in 2012.
The Hall will also be honoring North Attleboro's 38 game winning streak which occurred from 1997-2000. All former players from each of those teams will be invited back to celebrate the incredible accomplishment.
Proceeds from this year's banquet will again be used to continue our annual Hall of Fame scholarship donations that will be awarded to select senior football players from each high school who exhibit an outstanding commitment to football, great leadership skills, and sportsmanship. Since 2001 the Hall has now recognized 287 high school senior players while awarding over $300,000 in total scholarship money.
To Obtain Tickets for the Hall of Fame Banquet please visit the Hall's website.
www.AttleboroAreaFootballHOF.com