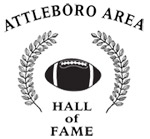 The Attleboro Area Football Hall of Fame will hold its 49 th annual banquet and induction ceremonies on Saturday, November 23 rd at the Attleboro Lodge of Elks on South Main Street in Attleboro. This most unique tradition honors players, coaches, and supporters from the three rival high school football programs of Attleboro, North Attleboro, and Bishop Feehan, bringing together fiercely competitive opponents from the present and past to share in an evening of camaraderie and mutual respect.
This year's inductees from Attleboro are Jonathan Skinner '03, Brandon Mooney '12 and Tim Walsh '14; representing Bishop Feehan are Joseph Warzycha '92, Rob McCourt '04, and Nick Schwieger '08; and from North Attleboro Michael Hogan '01, Kevin Kelleher '01, and Ryan Flannery '11.
The 2019 Honorary Inductee is North Attleboro's Ken Nally.  Since 1989, Ken has volunteered his time to help prepare the Red Rocketeers on a daily basis in a variety of roles.  He's currently coaching the scout offense which help's the team to get ready for the week's opponent.  His dedication extends far beyond the season as well, as he's spent time at coaches clinics and Ken also assists the Rocketeers in their summer passing league.  The success of the Big Red program wouldn't be possible without volunteers like Ken that have put their passion for the game of football and the town of North Attleboro at the forefront.
Proceeds from this year's banquet will again be used to continue our annual Hall of Fame scholarship donations that will be awarded to select senior football players from each high school who exhibit an outstanding commitment to football, great leadership skills, and sportsmanship.
Since 2001 the Hall has now recognized 251 high school senior players with awarding over $270,000 in total scholarship money.
To Obtain Tickets for the Hall of Fame Banquet please visit the Hall's website.
www.AttleboroAreaFootballHOF.com