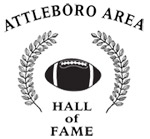 The Attleboro Area Football Hall of Fame will hold its 48 th annual banquet and induction ceremonies on Saturday, November 17 th at the Attleboro Lodge of Elks on South Main Street in Attleboro. This most unique tradition honors players, coaches, and supporters from the three rival high school football programs of Attleboro, North Attleboro, and Bishop Feehan, bringing together fiercely competitive opponents from the present and past to share in an evening of camaraderie and mutual respect..
This year's inductees from Attleboro are David Thornhill '66, Michael Barry '09 and JJ Jolaoso '12; representing Bishop Feehan are Andy Sanville '95, Bryan McNally '02, and Dennis Antonino '05; and from North Attleboro Kevin Richman '09, Bobby Richman '11, and Sean Peters '13.
The 2018 Honorary Inductee is Wayne Simarrian. Wayne served as an Attleboro High School assistant coach from 2001-2012. Over the years Wayne coached the LB's, RB's, and WR's, while also spending time as special teams coordinator. From 2003-2010 he served as the defensive coordinator for AHS. His dedication extended far beyond the season as he spent 100's of hours at coaches clinics and also assisted the summer weight-lifting programs for the Bombardiers. His countless hours spent serving the Attleboro Football Program and their student athletes has left his mark on hundreds of players from this area.
The 2018 Honorary Team induction is the 1993 Red Rocketeer team that won the Superbowl. North finished the season at a perfect 11-0 and was the first SB victory for North since 1974.
Proceeds from this year's banquet will again be used to continue our annual Hall of Fame scholarship donations that will be awarded to select senior football players from each high school who exhibit an outstanding commitment to football, great leadership skills, and sportsmanship. Since 2001 the Hall has now recognized 242 high school senior players with awarding over $255,000 in total scholarship money.
To Obtain Tickets for the Hall of Fame Banquet please visit the Hall's website.
www.AttleboroAreaFootballHOF.com