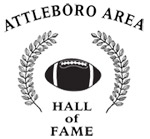 The Attleboro Area Football Hall of Fame will hold its 47th annual banquet and induction ceremonies at 6PM on Saturday, November 18th at the Attleboro Lodge of Elks on South Main Street in Attleboro. This most unique tradition honors players, coaches, and supporters from the three rival high school football programs of Attleboro, North Attleboro, and Bishop Feehan, bringing together fiercely competitive opponents from the present and past to share in an evening of camaraderie and mutual respect.
This year's inductees from Attleboro are Kevin Cryan '78, Matt Howe '08, and Tyler McCarthy '09; representing Bishop Feehan are Justin McGowan '99, Greg Moore '05, and David Libardoni '05; and from North Attleboro Danny Johnson '11, Alex Jette '13, Brett Mastropoll '10, and Paul McCarthy '11.
The 2017 Honorary Inductees are Dave and Donna Paulhus from Bishop Feehan. The Paulhus's have both worked tirelessly throughout the years to support area football. Dave served as a Pop Warner coach in North Attleboro but most recently as a longtime coach for Bishop Feehan. His knowledge of the game is invaluable and was instrumental in bringing multiple Super Bowl Championships to Holcott Drive. Donna served in many capacities for North Attleboro but eventually, like Dave, became a part of the Bishop Feehan family. While serving as the athletic department secretary, a job she still holds today, Donna was also a cheerleading coach at Bishop Feehan. Donna keeps the Bishop Feehan program moving forward and does most of the "behind the scenes" work without recognition. Simply put, Shamrock Athletics does not run without Donna.
Proceeds from this year's banquet will again be used to continue our annual Hall of Fame scholarship donations that will be awarded to select senior football players from each high school who exhibit an outstanding commitment to football, great leadership skills, and sportsmanship. Since 2001 the Hall has now recognized 227 high school senior players with awarding over $240,000 in total scholarship money.
To Obtain Tickets for the Hall of Fame Banquet please visit the Hall's website.
www.AttleboroAreaFootballHOF.com