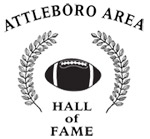 The Attleboro Area Football Hall of Fame will hold its 46 th annual banquet and induction ceremonies on Saturday, November 19 th at the Attleboro Lodge of Elks on South Main Street in Attleboro. This most unique tradition honors players, coaches, and supporters from the three rival high school football programs of Attleboro, North Attleboro, and Bishop Feehan, bringing together fiercely competitive opponents from the present and past to share in an evening of camaraderie and mutual respect.
This year's inductees from Attleboro are Mike Russas '99, Nick Mazurkiewicz '09, and Nathan Robitaille '11; representing Bishop Feehan are Mike Cassidy '96, John McCoy '04, and David Paine '04; and from North Attleboro Patrick Sullivan '04, John Farroba '07, Elijah Harris '08, and Mike D'Attilio '09.
The 2016 Honorary Inductees are Wayne and Patty Hitchcock from North Attleboro and Dennis Walsh from Attleboro. The Hitchcock's have worked tirelessly throughout the years to support the North Attleboro football program. Wayne as a volunteer trainer and EMT, while Patty has served as a photographer for the program. On the Attleboro side Dennis Walsh began as a game day volunteer for AHS football in 1991 under former head coach Cliff Sherman. He additionally served as a volunteer overnight chaperone at AHS Football Camp and was a long time and one of the original members of the AHS Gridiron Club. He has been instrumental in the renovation of the AHS weight room and was an important member of the AHS stadium project.
In addition to the 13 individual inductees, the Hall of Fame will be honoring the 50th Anniversary of the 1966 Bishop Feehan Team that went undefeated.
Proceeds from this year's banquet will again be used to continue our annual Hall of Fame scholarship donations that will be awarded to select senior football players from each high school who exhibit an outstanding commitment to football, great leadership skills, and sportsmanship. Since 2001 the Hall has now recognized 212 high school senior players with $225,000 in total scholarship money.
To Obtain Tickets for the Hall of Fame Banquet please visit the Hall's website.
www.AttleboroAreaFootballHOF.com