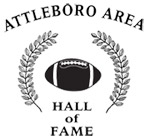 The Attleboro Area Football Hall of Fame will hold its 45th annual banquet and induction ceremonies on Tuesday, November 24th at the Attleboro Lodge of Elks on South Main Street in Attleboro. This most unique tradition honors players, coaches, and supporters from the three rival high school football programs of Attleboro, North Attleboro, and Bishop Feehan, bringing together fiercely competitive opponents from the present and past to share in an evening of camaraderie and mutual respect. This year represents a 95-year rivalry between Attleboro and North Attleboro, and a 49-year rivalry between Bishop Feehan, Attleboro and North Attleboro.
This year's inductees from Attleboro are Bob Aussant '64, Bob Arsenault '85, and Matt Campbell '10; representing Bishop Feehan are James Dean '82, Joseph Serodio '95, Renato DePaolis '98, and Jeremy Fontaine '01; and from North Attleboro Neal Beaupre '89, Jason Kipp '96, Anthony Pirri '96, and Michael Hart '08. The 2015 Honorary Inductee is George Bosh. As a former Attleboro starting guard/defensive end and 1964 graduate, George has been a tireless supporter of the AHS football program for the past 23 years while volunteering his time as a member of the Attleboro Boosters Club; volunteer coach at AHS football camp; volunteer equipment coach at varsity games; a member of the Chain Gang for 13 years; and most recently a consistent presence for the past 15+ months assisting with the new concession stand construction at the AHS stadium
In addition to the 12 individual inductees, the Hall of Fame will be honoring the 20th Anniversary of the 1995 North Attleboro Team that was Hockomock League Champions and finished the season at 10-1. The only blemish occurred in the MIAA Super Bowl against Marshfield.
Proceeds from this year's banquet will again be used to continue our annual Hall of Fame scholarship donations that will be awarded to select senior football players from each high school who exhibit an outstanding commitment to football, great leadership skills, and sportsmanship.
Since 2001 the Hall has now recognized 197 high school senior players with $210,000 in total scholarship money
Tickets for the induction ceremony ($45 each) should be ordered online, www.attleboroareafootballhof.com if possible, or by calling Chris Servant at 508-226-7411, Matt Bosh at 508-316-3174, or Chris Rushlow at 781-630-2550.