Biography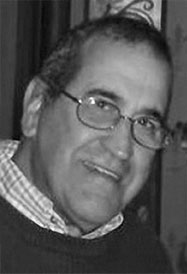 For close to the last 30 years, few individuals associated with Attleboro High School Athletics have worn more hats than George Bosh. The pride of the Blue and White was forged during his playing days under the direction of legendary head coach Jim Cassidy as a starting offensive guard and defensive end for the 1963 AHS football team. Shortly after his graduation in 1964, George proudly served his country as part of the United States Army and spent an 18 month tour of duty in the Vietnam War. Upon finishing his commitment to the military, he spent the next 40-plus years working for DeBlois Oil which then became Petro Oil Company.
His volunteer services to AHS began in the mid-1980's and remain strong to this day. He was a member of the AHS Varsity Booster Club from 1989 to 1998 as well as an original member of the executive board of the Attleboro High School Athletic Hall of Fame. George was part of the parent group who formed the "Blue Red" golf tournament, and was also a long time member of the Attleboro Rotary Club which has always been a strong supporter of Attleboro youth organizations and athletics. From 2000-2013, he was a member of the AHS gridiron "chain gang" for Friday night Attleboro football games. He even spent time as a volunteer camp coach for then AHS head coach Kevin Deschenes when the team would make their 4 hour trek to Western MA for their annual one week pre-season training camp. In addition, under Coach Deschenes, George even spent a couple of seasons as a game night equipment coach for the Bombardiers.
Today, George has been a consistent Saturday presence for the past 16 months in the construction of Tozier-Cassidy's brand new state of the art concession stand project performing everything from operating a jackhammer in the early stages, to working on all the electrical wiring for the building. He also is a volunteer teaching assistant in AHS's CTE Electrical program working with students ranging from freshmen to seniors. We welcome George Bosh to proudly join his sons Matt and Nick as an honorary member of the Attleboro Area Football of Fame.
---