Biography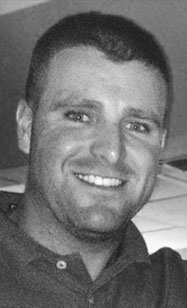 When Jack Peavy took over as Head Coach in 2000, his Shamrock team was one of the most talented Feehan has ever boasted. The Shamrocks had a formidable backfield field combo and a lefty gunslinger calling plays. However, much to the chagrin of opposing teams, that wasn't all. Bishop Feehan was energized by a 6'0" 185 pound speedster, a wide-out, and return team specialist who created matchup problems on every snap and in every facet of the game: Jeremy Fontaine.
When asked about Jeremy Fontaine, Coach O'Boy recalled he was "a weapon, deep threat potential on every single play and a nightmare for the opposition on special teams." Coupled with the big arm of QB Jim Petrillo, Fontaine's speed and soft hands stretched defenses to the breaking point. Together they dissected secondaries and opened up the run game for Scott Connelly. In fact, most times Fontaine touched the ball, he created the spark that Feehan rallied around in big games throughout the season.
To open the season, Fontaine caught a 20 yard TD in a blowout of St. Bernards. The following week, in a dogfight against a Red Rocketeer team that had reeled off 33 straight wins, Fontaine had an 86 yard punt return for a TD. He had his 2nd punt return TD in as many games, a 57 yard scamper as the Shamrocks routed Dartmouth. And against unbeaten Durfee, Fontaine and Petrillo hooked up again on a 15 yard scoring strike that cemented a 14-0 victory.
The path to the Superbowl led to Tozier-Cassidy field, where defending EAC Champ Attleboro and the Blue Bombardier faithful were waiting for the Shamrocks under the lights. It was here that Jeremy Fontaine turned in the year's most electric performance, catapulting Feehan to a 54-14 victory. After an early Attleboro score, he exhibited the speed that made him one of the best sprinters in the state by taking back the ensuing kickoff 85 yards for a crowd silencing TD. He then followed that up with a 65 yard punt return TD. Fontaine was simply unstoppable. Feehan sped away with the game and the EAC crown.
As receptions and TDs piled up, Fontaine was named a Sun Chronicle and Pawtucket Times all-star and 2nd team All state. He then went on to play Safety at the University of Rhode Island.
---