Biography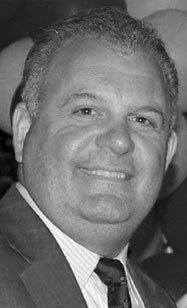 At 5'10" 175 pounds, there was no fiercer competitor to take the field in the fall of 1980 for Coach Paul O'Boy's Shamrocks than defensive end and center Jim Dean. Coming off 4 straight losing seasons, the 1980 Shamrocks were built around Hall of Fame wide receiver Bill Hyland '81 and a young offensive line that included center Jim Dean.
A line that would go on to score a then school-record 236 points.
A hungry Feehan eleven came out of the gate swinging and upset a veteran North Attleboro team (14-13). The Shamrocks carved out a 7 win and 3 loss turnaround season that featured victories over Attleboro (28-10) and shut outs of EAC rivals Coyle (28-0) and Stang (35-0). The Shamrocks were back and in large part because of center Jim Dean who was selected as a Sun Chronicle All Star.
As a senior, Dean became a 2-way player at center and defensive end. In Feehan's first game against Old Rochester, Dean sacked Old Rochester quarterback Chris Riley for an 18 yard loss. On the very next play, Dean made a jarring tackle which forced the OR fullback to fumble, which Dean then recovered at the 8 yard line. Holding Old Rochester to 61 yards rushing and 37 passing, Feehan went on to win convincingly 31-8. One local scribe said it best: "Dean was seemingly ever present on defense."
Defense was the dominant theme for the 1981 edition of the Shamrocks as they recorded 7 victories that year, which included shutouts over (DR 33-0, Case 7-0, Seekonk 21-0 and Coyle 21-0) while holding three other opponents to one touchdown or less.
That year, one of Feehan's most satisfying victories was a hard fought 14-7 victory over Attleboro. Local sportswriter Peter Gobis stated "the initial 20 minutes of the game was a magnificent struggle between the AHS offensive line and the Bishop Feehan defensive line, anchored by Dean and Nazarian."
When asked to comment on Dean, head Coach Paul O'Boy said, "not only was Jim a physical presence on the field, but he was an intelligent player who understood the game; smart players are better players and Jim Dean was one such player."
For his outstanding contributions Dean was named as a Sun Chronicle and EAC All Star. Upon graduation, Jim went on to attend Fordham University where he continued to play football. Jim is a current member of the Bishop Feehan football coaching staff.
---