Biography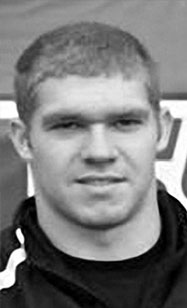 Ask any high school football fan of Attleboro area football, and you would have difficulty finding anyone who could a name a more complete all-around football player than Attleboro High's Matt Campbell. As a 6'1, 225 lb. running back/linebacker with sprinter's speed and athleticism, Campbell dominated the football field for AHS for three consecutive seasons. As a two-way starting sophomore, he was the Bombardiers' leader with 545 yards rushing, 9 touchdowns, and 93 tackles from his inside linebacker position. As a junior Matty rushed for 1336 yards, 22 TD's, caught 12 passes for 246 yards and 1 TD, and registered 105 tackles, 2 sacks, three forced fumbles, and 1 interception. Against New Bedford that season, he rushed for 222 yards and 3 TD's in a 46-20 Bombardier victory. In an Old Colony League victory over Taunton, Campbell had 5 rushes for 169 yards and 3 TD's. In the last game of his junior season vs. North Attleboro, Campbell rushed for 125 yards, had two rushing touchdowns, 50 yards receiving on 3 catches, and had 8 tackles on defense earning the Balfour Trophy for Offensive MVP in a 12-10 Attleboro victory over the Red Rocketeers.
Coming into Matt's senior season, the Bombardier captain was one of the most feared offensive weapons in all of Massachusetts. Similar to his junior year performance vs. New Bedford, Matt rushed 22 times for 217 yards, 2 receptions for 100 yards, and three touchdowns in a 50-42 shootout for the Attleboro win. Against an always tough Stoughton team, Campbell rushed for 222 yards and three touchdowns in a 34-14 AHS victory. In Matt's final game as a Blue Bombardier vs. North Attleboro, he went out in style rushing for 134 yards on only 8 carries which included touchdown runs of 45 and 67 yards, 2 receptions for 32 yards, and 14 total tackles.
Over his career, Campbell rushed for 3200 yards, caught 36 passes for 613 yards, 52 total touchdowns, and 349 total tackles. Matt collected plenty of hardware as well in his three seasons of varsity football. He was a three time Sun Chronicle All-Star, two time Old Colony League All-Star, two-time team MVP, All-Scholastic Boston Globe and Herald All-Star, and a member of the elite Super 26 Massachusetts All-Star team. Upon leaving Attleboro High School, the three sport captain Campbell accepted a football scholarship to the University of Massachusetts at Amherst.
---