Biography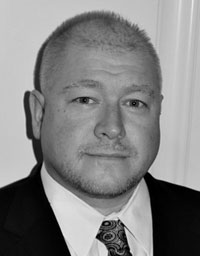 The early 1980's saw the advent of Proposition 2 1/2 and the down scaling of most high school athletic programs. Freshman football teams were out, and the continuity which was necessary for successful programs was threatened. Ron Simoneau was one of Rocketeer hopefuls affected by these cuts. However, the Gridiron Club at N.A.H.S. helped finance a limited program for the freshman class of 1981 and Simoneau and his classmates were able to remain a part of the North Football Program as a freshman team and develop their skills for the future.
Simoneau became an important two-way player for North, especially during his senior year. In 1984 Ron anchored the offensive line from his guard position and was the team's outstanding defensive player as a nose guard. At 5' 7" and 185 pounds the little fire plug was North's third leading tackler with 44 tackles and 12 assists. He was one of the main reasons that North's defense held opponents to just 95 points for the season. Early in the season, Ron had an outstanding game against Mansfield in a 27-0 shutout. He led North's defensive line and stuffed the Hornets' running game. Later in the season he had outstanding games against heavily favored Canton and Attleboro teams. In a 13-3 loss to Canton he led North's defense with 7 unassisted tackles. He did the same on Turkey Day. In a heart breaking 7-3, last-minute loss to a good Attleboro team, Simoneau was all over the field. He was North's inspirational leader on both sides of the ball. Coach Ray Beauare said it best when he described Simoneau. "He was a tough undersized kid whose strength, quickness and determination made him a typical Red Rocketeer football player".
At the conclusion of the 1984 season Ron was recognized as an All-Hockomock League selection as well as being named to the Sun Chronicle, Pawtucket Times and Boston Globe Division III All-Star Teams. He was also selected by his coaches and teammates as the Thomas Bury Scholarship Award Winner and the North End Zone's Unsung Player.
Ron Simoneau has difficulty recalling specific game memories but this quote best summarizes how he feels about his high school football experience. "What I will always remember is the intense sense of pride and tradition that I felt every time I put on a Red Rocketeer uniform and stepped on the field. The life lessons learned while part of the N.A.H.S. Football Program in terms of work ethic, teamwork, leadership and respect have had a tremendously positive impact on my personal and professional life over the years".
---