Biography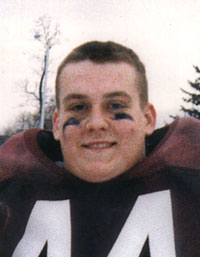 Chris Schlick was without a doubt one of the best two-way lineman that North has had in recent years. The 6'2" 225 pound Schlick was a real good athlete for a player his size. His athletic ability and speed made him a very effective offensive guard and a dominant defensive end.
Schlick gained valuable experience as a sophmore by breaking into the starting lineup midway into the
season. He alternated on defense between tackle and end. Eventually settling in at the end position where he became one of the league's best defensive players. During the 1995 and 1996 seasons, he could plug the off tackle hole and run down opposing ball carriers to the outside.
A comment Coach Sullivan made speaks volumes about Schlick. When informed Chris was going to be inducted Sully asked, "Is he going in as a player or a coach?" The inference being that Schlick was a real student of the game. He knew what each offensive play was suppose to accomplish and executed his defensive responsibilities flawlessly. He would go over each game film with Coach Sullivan striving to make himself a better player.
In two plus years as a defensive starter Chris was selected nine times as a Gridiron Club's Lineman of the Week, two consecutive years on Turkey Day. During his senior year he had great games defensively against Xaverian and Foxboro. In a 42-26 win against Foxboro he recorded 7 tackles, 5 assist and two quarterback sacks.
At the conclusion of his senior year Schlick was selected as a defensive end to both the Hockomock League and Sun-Chronicle All-Star teams. In the Sun-Chronicle article Coach Beaupre was quoted, "Chris was our best two-way lineman and was an extremely effective defensive end on a front four that was the strength of our team." Chris Schlick went on to W.P.I. where he was a four year starter.
---