Biography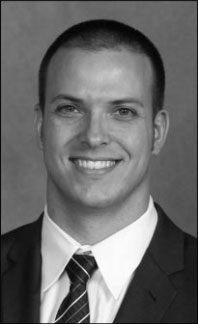 One of the hallmarks of Coach Matt Lanagan's Bishop Feehan teams of the 1990's was a swarming, fast, and sometimes undersized d efense that found a way to shut down opponents through sheer determination and willpower. Chris Peluso always seemed to be one of the last guys out of the pile of Shamrock gang-tacklers and was the epitome of this "team-defense" mentality.
At 5'10, 175 pounds as a senior, and probably 30 pounds less than that as a sophomore, Chris was a 3 year starter for the Shamr ocks. While he was primarily known for being a versatile outside linebacker disrupting plays off the edge, Chris also mixed it up as a hard-nosed full- back in a high-scoring backfield including fellow Hall of Famers Chad Carges and John Fitzsimmons.
Chris made an impact as a sophomore on the defensive side of the ball, helping to overcome a 0-3 start and finish the year with 7 consec- utive wins - while giving up less than a touchdown per game over that stretch. One of Chris's vivid memories of that season (h opefully not too vivid) was that his first varsity start was against an Attleboro team featuring Dave Menard at tailback – probably one of the a rea's most pun- ishing runners of the 1990's.
Peluso's 10-1 junior season was highlighted by wins against both Attleboro and North, followed by an eventual Super Bowl match against Mansfield. Even though the Shamrocks did not win the game, the season proved that Shamrock football was back as one of the eli te programs in the area.
While the 1994 Shamrocks made it to the Super Bowl, many people consider the 1995 team, which Peluso captained, to be every bit as good. With a win against a strong Attleboro team and a close loss to eventual Super Bowl participant North Attleboro, the Shamrocks n arrowly missed a playoff appearance.
Chris does not have a long list of individual awards like some of those in "glamour" positions typically receive. However, eve ry successful team always has a Chris Peluso that makes a play when it counts, not always because he is the superior athlete, but because he pushes through adversity and finds a way to make a difference.
After graduating from Feehan, Chris went to Quinnipiac University where he was the captain of the rugby team.
---