Biography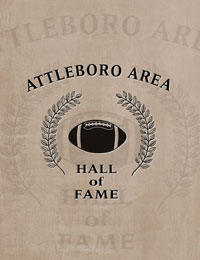 Conrad Pensavalle grew up in Everett, Mass where he excelled at Everett High School in both football and baseball as an All Scholastic in his sophomore, junior and senior years in the Greater Boston League. Conrad was drafted by the Chicago Cubs baseball team while in high school, but he chose to attend Dartmouth College instead. While at Dartmouth from 1945-49 he earned his varsity sweater as a freshman playing quarterback, and in his sophomore year earned Associated Press All American Honorable Mention status as a QB. When he played in the North-South Shrine Game in Montgomery, Alabama he also was named the game's Most Valuable Player.
Conrad also boxed for Dartmouth and played baseball. He separated both shoulders his junior year and was restricted to limited play on the football team, running back kicks and punts, and serving as the teams punter. After graduation he moved to North Attleboro with his wife Betty, where Conrad coached the Red Rocketeers in both football and baseball from 1950 to 1954. The 1952 team went undefeated - a year in which turned around seasons of sub-par football and set the winning way for many North teams to come.
Conrad left North Attleboro to be offensive coordinator for the University of Rhode Island, helping lead a team that team went on to play in the Refrigerator Bowl in Knoxville, Tennessee in 1956. At the same time, he played and coach for the Providence Steamrollers and the Attleboro Jewelers, continuing love for football in the Attleboro area. Conrad's last coaching position was at King Philip in 1965. Conrad was involved in the little league baseball program in North Attleboro in the early 1950's and was instrumental in the birth of the Youth Football Program in 1960, and in 1995 he was inducted into the Providence Gridiron Hall of Fame.
To this day, Conrad takes great pride in the success of the North Attleboro High School football program and his part in its history.
---