Biography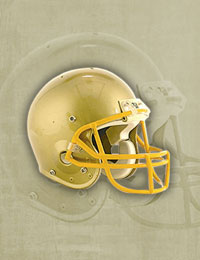 As a two-way starter, as an offensive center and defensive tackle, Dan Lyons could have been an advertisement for a Tide commercial. Getting down in the dirt was exactly what the 6'2" 190 Lyons did well for Coach PaulO'Boy. Lyons was one of the few juniors who saw playing time on Paul O'Boy's inaugural 4-4-1 squad whose four losses were by a combined total of 11 points.
As a senior, co captain Lyons was a driving force on both sides of the ball. It was defensive tackle Lyons and Hall of Fame teammate Dick La Rocque who backboned Feehan's defense to opening back-to-back shutouts of New Bedford Yoke (22-0) and Taunton (28-0). It was offensive center Lyons blocking that paved the way for junior future Hall of Famers Ezyk and Thorpe as Feehan stopped Attleboro 22-14, and against North Attleboro in a 22-8 game, one local sportswriter reported that "Lyons continual pressured of North Attleboro QB Berard" led to the Feehan victory.
Lyons missed a game because of an injury before returning to face powerhouse Hendricken of RI. His return was an emotional lift that led the Green and White to an impressive 31-13 victory. Feehan closed out a successful 6-3 campaign with a 15-6 victory over Thanksgiving Day rival Bishop Stang, a game in which Lyon's uniform was as one of his former coaches stated, "indistinguishable from the mud at the 50 yard line."
---