Biography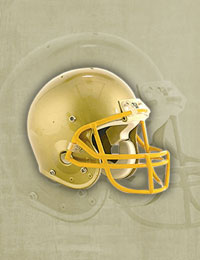 When Bishop Feehan began its football program in 1962, it undertook a daunting task with a team of only freshmen and sophomores, a cow pasture (now McGrath Stadium) that served as a practice field, a dream yet to be realized, and a tradition still to be created. After playing a separate freshman and JV schedule in its inaugural season, a year later, Feehan embarked on a full varsity schedule even without the presence of a senior class. And in 1964, in only its third year of existence, the young Shamrocks entered the rugged Bristol County League playing the likes of the powerhouses Coyle, Bishop Stang and Durfee as well as initiating intense local rivalries with Attleboro, North Attleboro, and Mansfield. During the last 41 years no one has represented the essence of Feehan football any better than Bill LeFort, one of Feehan's first captains and a graduate of the first class in 1965.
Humble, unassuming but leather tough in the trenches of the offensive and defensive lines, LeFort established the standard by which all future Feehan lineman would be measured. As a tenacious offensive guard, LeFort spearheaded a vicious Feehan ground attack for its famous "3F" backfield of Jim Ferrara, Brian Frost, and Gary Flynn. While at times they took a pounding in those early years, the young 'Rocks could dish it out too and earned a reputation as a motley group of "rock 'em-sock 'em" football players in the words of their esteemed coach. The player who most personified this slogan was Captain Bill LeFort. In Feehan's first varsity win ever in a mini hurricane of gale force winds and sheets of rain at Provincetown, it was LeFort whose blocking allowed Gary Flynn to score the touchdown to win the game.
A formidable two way starter, Bill played middle guard in Coach Chet Hanewich's 6-2 Wide Tackle Defense, So it was LeFort who often absorbed the double team or the trap to free up linebackers and others to make the play. But that was so characteristic of Bill LeFort, the ultimate team player. While the Team battled to a respectable 4-4-1 record in its first season in the Bristol County League, there were some memorable victories including Feehan's first win against North Attleboro 12-6 and a shocking upset over perennial state powerhouse Coyle 21-16. While it would not show in the box scores, Bill's contributions to those wins were immeasurable.
Bill LeFort passed away unexpectedly in 1998. He will be remembered as an embattled warrior with the heart of a lion.
---