Biography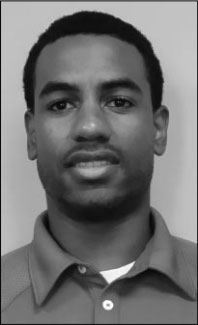 Marcus Vaughn was a standout two way player for Coach Paul Sullivan's last two teams as head coach. As a running back and line - backer/rover, Marcus was someone that opposing teams were forced to account for at all times. His speed, intellect, and work e thic allowed Marcus to be a dominant force on both sides of the ball.
On offense, Marcus was always one step away from out running the entire opposing defense for a score. In his senior year, Marc us shared the backfield duties with fellow Hall of Famer Tim Bartucca and he led the team with 586 yards on 89 carries and five touchdown s. In the pass- ing game, he had 5 receptions for 139 yards and 3 more scores. But, Marcus' chance to break the backs of the defense didn't en d there. He also contributed on special teams as a punt and kickoff returner, and in his junior year he returned two punts for touchdowns. Over the course of his varsity career Marcus averaged over 6 yards per carry and nearly 20 yards per reception.
Coach Paul Sullivan described Marcus as "One of the most skilled and graceful athletes to play at North Attleboro. His combina tion of speed and athleticism was rare and gave us opportunities for big plays on both sides of the ball. An under-appreciated aspect of his role was how the stress he placed on the perimeter defenses of our opponents enabled both our inside run game and pass game to be very effec tive."
In addition to being an explosive offensive weapon, Marcus excelled on the defensive side of the ball as well. Marcus was able to maximize his speed with his smarts to give North Attleboro a playmaker on the strong side of ball that opposing teams had a difficult ti me scheming against. Another huge asset was Marcus' ability as a linebacker to matchup man to man against anyone on the other side of the line. This versatility helped North Attleboro to allow only 94 points in Marcus' senior season and they were not scored upon in the first quarter of any game.
Many coaches will tell you that as the games get bigger, bigger plays are needed to win and Marcus' game against Foxboro during his senior year is a great example. Marcus took a pass on the first offensive series 72 yards for a touchdown and he didn't stop there. M arcus finished with 133 yards rushing on 17 carries and tacked on two more touchdowns to lead the Rocketeers to victory and a clean sweep of F oxboro in his varsity career (3-0).
One of Marcus' favorite memories was the thrilling 44-40 Super Bowl victory over Swampscott in his junior season. A win that c apped a ten game unbeaten streak to end the season and propelled the Rocketeers to their 7th Eastern Mass State title. It's a game that wi ll go down as one of the best Super Bowl shoot-outs in state history.
Marcus' athletic achievements continued off of the gridiron as well. Marcus was a state champion in the long jump, 55M hurdles , and 110M hurdles and he earned himself a track scholarship from Syracuse Univerity.
---