Biography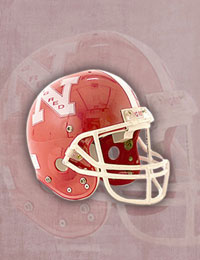 Whidden had to be one of the most versatile players to ever wear the red and white. During the years from 1963 - 1966 Wes saw action on the offensive side of the ball as a center, tackle, end, and running back. Defensively his aggressive hard hitting style earned him the reputation as one of the best linebackers in the area.
Wes's defensive accomplishments were many. As a junior he had an outstanding game against Stoughton keeping constant pressure on the quarterback and recording 4 sacks. That same year his pass interception and 46 yard return against Attleboro helped lead North to a 14-0 victory on Thanksgiving.
Offensively Whidden did just about all that can be done. Against King Philip the senior co-captain returned a kick-off 70 yards. In his final game for North he led a winless North team to a 19-6 upset of Attleboro on Thanksgiving Day. The 190 pound Whidden had a 58 yard touchdown run in that game and was outstanding on defense. For his performance against Attleboro he was presented the L.G. Balfour Trophy as the game's Outstanding Player.
---