Biography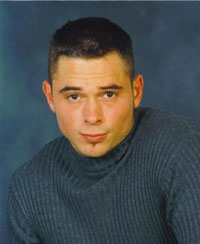 Tim Slowey was part of two Eastern Athletic Conference championship teams during his three outstanding years of varsity football for the Bombardiers. Slowey's athletic prowess was on center stage game after game for the Blue & White on offense, defense and special teams. As a tough, hard-nosed sophomore Slowey first cracked AHS's line-up as a defensive end and on special teams. As a junior Tim's role expanded on offense with the graduation of Hall of Famer Jason Baker, but as a senior Slowey became a human highlight film whenever he touched the ball.
During his sophomore season Tim was part of an AHS defense that allowed just a single touchdown in four of five EAC encounters, including a hard-fought 8-7 victory over Bishop Feehan. Later that same season with an 18-6 victory over Dartmouth, the Blue & White secured the EAC Championship and the second Division 3A Super Bowl berth in Bombardier history.
At 5-11, 180 pounds, Slowey became a major playmaker. He led the Bombardiers in rushing with 820 total yards while hauling in 24 receptions for 455 total yards – an 18.95 yards/reception average - and Tim also led the Blue & White with 18 touchdowns! On a Monday Night make-up game Slowey accounted for 191 total yards, including 133 yards rushing on just 15 carriers. The dazzling Slowey crossed the goal-line 3 times (two rushing and one on a 58-yard reception), while also intercepting a pass to lead AHS over Bishop Stang 19-13.
The much heralded Slowey was well-know as a senior. Tim averaged just over 10 yards per rush on 93 attempts, and he grabbed 14 passes for 254 yards. Slowey found the end zone 20 times, including two on punt returns. In defeating Feehan 26-7, The Sun Chronicle stated, "Tim Slowey was virtually untouchable at Tozier-Cassidy Field Friday Night!" He scored 3 touchdowns and rushed for 204 yards on just 13 carriers. A month later in a 40-15 trouncing over Durfee, Slowey was at it again leading the Bombardier's with a three touchdown effort by scoring on the ground and through the air offensively, and with an interception that he returned for six points defensively.
Slowey was a two-time EAC, Sun Chronicle and Pawtucket Times All Star selection, and he was also named to the 1998 Boston Globe and Boston Herald All-Scholastic football teams.
---