Biography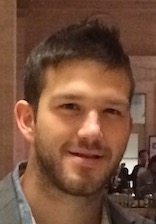 Rob McCourt – Bishop Feehan '04
Chasing three straight Superbowl victories on Holcott Drive would be no easy task, as the 2003 edition of the Bishop Feehan Shamrocks found out. Neither would replacing standout running back Ryan Tully. But senior leader Rob McCourt, a two-way force at running back and linebacker, proved he was up to both challenges. Along with a cadre of returning skilled seniors like McCourt, Ron Conway, and John McCoy, and offensive and defensive lines anchored by David Paine and Dave Libardoni, the Shamrocks began their march towards a Championship three-peat!
Coach Paul O'Boy remembered the 5'10" 190 pound running back and linebacker with fondness. McCourt was his type of player, he said. He was "big on grit." O'Boy went on to say he was particularly "adept at following his blockers, letting a play develop, and had great success on isolation plays and slashing off-tackle."
It was after an early season loss to North Attleboro that Rob McCourt began to assert himself as the workhorse in the backfield that the Shamrocks needed. Against Dartmouth, Feehan rebounded with a 37-0 shutout behind 2 TDs from McCourt on nearly 100 yards rushing. In a big matchup versus Somerset, a game that would ultimately determine the EAC crown, offensive production was a premium. Gale force winds nullified the passing game for both teams and both were forced to run on virtually every play. Against a 9 man Somerset front, McCourt rushed for 120 yards on double-digit carries and the game's only TD, as Feehan prevailed 7-6.
Rob McCourt continued to get better as the season wore on and excelled on both sides of the football. He led a stingy defensive that shut out 5 opponents and held another 3 teams to single digits. After winning the league outright, Feehan secured a playoff berth against 10-1 Wareham. McCourt, relishing the big matchup, rushed for 113 yards and two scores as the Shamrocks routed Wareham on route to their third straight Superbowl.
In the Shamrock's Superbowl matchup against Northshore foe Masconomet, Rob McCourt's final performance in the green and gold was emblematic of his time at Feehan. It was understated yet necessary, intense, and integral to the team's success. McCourt's defensive unit shut out Masco 16-0 and McCourt had 5 tackles for loss. On offense, he carried the burden of the rushing attack, toting the rock nearly 20 times for over 100 yards and a TD.
Amid Feehan's high flying 2003 offense and third straight State Title, where teammates McCoy and Conway regularly connected for big gains through the air, Rob McCourt's "big grit" kept the Shamrocks grounded in more ways than one.
---