Biography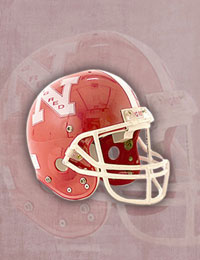 Bill Kummer arrived on the North Attleboro football scene with good credentials. Both his father and uncle had excelled for Taunton High School in the 1940s, and his father, also Bill, had for years been a member of the North coaching staff.
Young Bill more than lived up to the family tradition in his two outstanding years as a lineman for the Red Rocketeers. A starter at offensive guard as a junior, he was a two-way player in his senior year-and a driving force on one of North's best teams ever. For his premier performance in the 1974 North-Attleboro game, he won the L.G. Balfour Trophy as the outstanding player. He won this honor the last time a single trophy was awarded. Thereafter, duplicate trophies were awarded to both an offensive and a defensive player.
A cocaptain in his senior year, Bill played in two Super Bowls - both won easily by the Red Rocketeers. At 5'9 and 200 pounds, he was known as "the dancing bear"- an affectionate nickname which celebrated his quickness along the line of scrimmage. As one of the top lineman of his generation, Bill Kummer makes a fine addition to the Greater Attleboro Hall of Fame.
---