Biography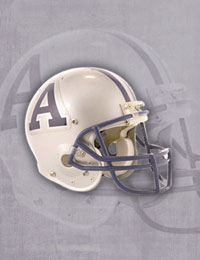 It is a real honor for the Attleboro Area Football Hall of Fame to select a player in his first year of eligibility but then, Jason Baker is that rare type of football player. An outstanding three-year player at tailback and safety, Baker was able to combine the perfect blend of natural talent, a tremendous amount of hard work, and great personal determination to mold himself into one of Attleboro's best ever football players. The versatile and shifty, 5'9" 175 lb tailback had great speed, outstanding instincts. Coach Cliff Sherman may have said it best when he stated that "he is a great competitor and when he gets good blocking up front that creates a little crack or seam in the defense then he is unstoppable."
As an inexperienced sophomore safety he electrified the Blue and White fans with several dazzling punt and kickoff returns. As a junior, Jason rushed for 822 yards on 148 carries, caught 11 passes for 121 yards and scored 15 touchdowns. He was an All Eastern Athletic Conference first team selection and first team All Sun District choice. As a senior tri-captain, Baker led the Bombardiers through a great season culminating in an EAC Championship and a Super Bowl appearance. Along the way, the senior "dynamo" scored three times in a 18-15 win over Barnstable while rushing for 104 yards, catching three passes for 74 yards, and scoring the winning TD in the last 30 seconds of the game. In an 8-7 squeaker over Bishop Feehan, the "workhorse" had 109 yards on 20 carries and scored the only touchdown on a 27 yard run. That game prompted Feehan coach Gary Doherty to say about Baker "you can only slow him down, you can't stop him." Even in defeat at the hands of Super Bowl winner Marshfield, Baker rushed for 102 yards and electrified the crowd with a 96-yard kickoff return for a touchdown. During the season, Baker scored 106 points including 17 touchdowns, rushed for 1256, gained a total of 2039 all-purpose yards and led the team in rushing receiving, interceptions, and tackles.
It would seem that the only way to really describe the honors that Jason Baker received for his spectacular exploits in 1996 is to list them: Boston Globe All Scholastic First Team, Boston Herald All Scholastic First Team, Sun Chrinicle All Star, Pawtucket Times All Area All Stars, Eastern Athletic Converence All Star, Eastern Athletic Conference MVP, AHS Team MVP, North/South Shrine Game. In addition, Baker holds the Bentley College record for the longest kickoff return of 90 yards.
---