Biography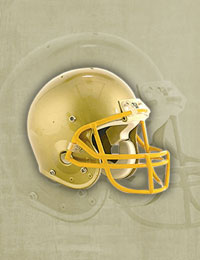 Often more important than the play of the offense or the defense, the work of special teams can strongly impact the outcome of the game. Charlie Deschenes, who started on Chet Hanewich's state champion team of 1966 and on Paul O'Boy's first varsity team in 1967, was not only a special teams' specialist, but also a sure tackler from his defensive back position. One of his teammates commented that Charlie's booming punts were as good as AHS legend and Hall of Famer, Dave Hardt, who went on to punt at the University of Kentucky.
As a junior defensive back on Feehan's undefeated team of 1966, Charlie teamed with Jim Parker, Paul Sullivan, and Peter Phipps in the secondary in helping to shut out seven opponents. His interception against .Taunton on their final drive preserved Feehan's shut out victory in its opening game. The following week against Coyle, while punting a wet ball in a rainstorm, he consistently pinned the Warriors deep in their own territory. He also nailed three pressure packed punts in Feehan's thrilling come from behind victory over Durfee 27-24 in a "game for the ages". While on the other side of the ball, Charlie holds the unique distinction of running not one but two blocked punts back for a TD. The first came in a 30-0 rout of North Attleboro and the second was in the televised Thanksgiving BCL championship game against Bishop Stang where his 29 yard romp sealed the win and state championship for Feehan.
As one of five returning starters in his senior year, he was a leader on a rebuilding team that won four games and lost four by a combined total of only 12 points. In his final game against Bishop Stang at Dartmouth Stadium, Charlie played a huge defensive role in holding Stang to a 0-0 tie. In that game, Stang was inside the Shamrock twenty four times and inside the one twice and failed to score. One newspaper wrote about Charlie: "Deschenes turned in all the Stang sweep plays and made seven solo tackles. Additionally, his five punts averaging over forty yards, were instrumental in bailing Feehan out of trouble time and again."
Charlie went on to play in college at WPI where he received a degree in mechanical engineering. He presently lives in North Attleboro with his wife and four children.
---