Biography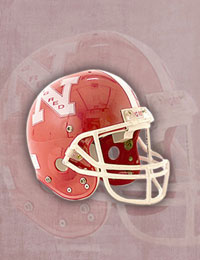 An intense, enthusiastic player who called North Attleboro's defensive signals in 1991, Pat Bannon was once described by his head coach Ray Beaupre as "the heart and soul" of that Red Rocketeer team. As a three year varsity player, Bannon's presence alone would increase the intensity level of his teammates, and his take-charge attitude helped make him one of the Hockomock League's fiercest hitters at the fullback and linebacker positions.
As a junior in 1990, Pat's 35 tackles and 14 assists were key components to a Rocketeer defense that surrendered a mere 34 points for the entire season! In '91 Pat was involved in 52 tackles, with 15 of those coming against Dartmouth High School.
Pat Bannon was also the one indispensable member of the '91 squad. In a battle of undefeated teams through 6 games, Pat rushed for 32 yards and 1 TD and threw a 6 yard TD pass to quarterback Brian Sankey in the first two offensive series to build a 12-0 lead over Foxboro. The Rocketeers lost Pat in the second quarter after he suffered two broken ribs and a punctured lung, and the value of Bannon in the lineup was never more obvious as Foxboro rebounded for a 14-12 victory. Pat returned for his final two games, including a 40-9 victory against Attleboro in which he rushed for 97 yards and scored 3 TD's to earn the LG Balfour MVP award for his offensive prowess.
Pat's career numbers include nearly 1,300 yards rushing, 20 TD's, 2 TD passes and he was involved in 106 tackles. In 1991 he was selected All Hockomock, All Sun Chronicle, a Boston Globe All Star, and a Shriners All Star Game participant. Following graduation, Pat attended the University of New Haven on a Football/Baseball scholarship.
---