Biography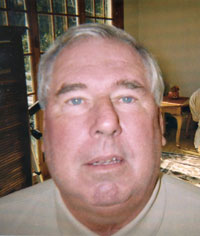 Coach Jay Gilmore earns his induction into the Attleboro Area Football Hall of Fame for his dedication, preparation and knowledge of the game of football. Jay's presence on the field during practice or a game meant his teams were ready for action. Working under legendary AHS coaches Chet Hanewich and Cliff Sherman for a combined 15 years, Coach Gilmore brought his knowledge and enthusiasm to the great Blue & White teams of the mid-80's ('82-'87) and 1990's (1991-1999).
Gilmore primarily worked on the defensive side of the ball where he took great pride in preparing his defensive schemes by breaking down each player's responsibilities during practice and reinforcing them on game day. In the Bombardiers thrilling 7-3 victory over North Attleboro in the 1984 Thanksgiving Day game, Gilmore's experience of North's strengths & weaknesses propelled a strong defensive effort by the boys in Blue & White. Jay's experience as a head coach in other sports allowed Hanewich and Sherman to trust in his preparation and ability to align his defense up to stop a vaunted running attack or put the clamps down on an opponents air show. The quick witted Gilmore always supported his players in the best and worst of times. This mutual respect and loyalty continues not to go unnoticed! Hard-hitting Hall of Famer Mike Barboza recalled a story about Coach Gilmore as he handed in his equipment after his last game in 1986. As Barboza handed his helmet to Gilmore; Gilmore told him to put the helmet in his bag: "there is NO rehabbing that helmet."
One of Coach Gilmore's fondest memories was beating Dartmouth, 35-13, on the road in 1992 to clinch Attleboro's first league championship since 1971, along with Attleboro's first Super Bowl berth ever! Gilmore also remembers the great battles against Bishop Feehan, especially in 1999 to earn a Super Bowl berth. Also, beating Division 1 opponents (NB, Barnstable, East Longmeadow & Durfee), and beating Mansfield two straight seasons (1993-1994). Another great win during Gilmore's tenure was on Thanksgiving Day 1994, the Bombardiers 22-8 victory at Tozier-Cassidy Field over North.
Coach Gilmore also coached in college at Providence College & Stonehill College. Gilmore is currently retired after 35 years of service in the Attleboro School System.
---