Biography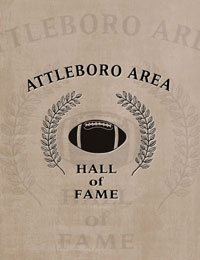 For almost twenty years, Peter Gay has been the voice, the eyes and in many ways the spirit of high school football in the Attleboro area. As a professional and polished play-by-play broadcaster, with great local knowledge, Peter has used the medium of cable television and the airwaves of radio to bring the excitement of high school football to thousands of area fans and make heroes of hundreds of football players. Just like the athletes he covered, Peter used the virtues of hard work and determination to improve his skills as a broadcaster and deliver the best possible product to the public.
A 1977 graduate of Bishop Feehan, Peter began his cable career in 1984 as a volunteer spotter for play-by-play announcer Don Earle on Inland Cable's high school football telecasts. When Earl, former Boston Bruins announcer resigned at mid season, Program Director Chris Miller asked Gay to step in and take over the play-by-play broadcasts. And, what a first game baptism he had broadcasting Attleboro's thrilling 22-21 come from behind victory as a result of two-point conversion in the last seconds of the game. This would be only the first of dozens of thrilling games that Peter would broadcast in an accurate and professional manner that brought the excitement of the action on the field to the television viewer and the radio listener.
In 1985 Peter was hired full-time and named Inland's Sports Director and anchored all of Inland's sportscasts, sports shows, and all play-by-play for area football and basketball games. In 1988 he added the same Sports Director responsibilities at WARA Radio. When Gay was promoted to station manager at WARA in 1995 he introduced the Ro-Jack's Player of the Game awards, which culminates in a season ending banquet organized and hosted by Peter Gay. He launched Scholastic Sports Saturday, which includes nine consecutive hours of high school football coverage, live telecasts of Attleboro area games and taped delay broadcasts of Pawtucket's St. Raphael Academy. In 1996 Peter initiated the popular cable-radio simulcasts of high school football games.
However, more important than the professional broadcasts for which Peter is so well known, is his quiet dedication and loyalty to the three high schools of Attleboro, Bishop Feehan, and North Attleboro and all the football players and coaches involved in their respective programs. Peter has produced dozens of highlight films for all three high schools, interviewed dozens of players and coaches, and hosted and mc'd many functions. But Peter really showed his great loyalty to the local football programs when in 2000 MediaOne-3 cable decided that it could no longer staff the cable telecasts of Attleboro area football games. Not wanting to see this great tradition end, Gay formed Jewelry City Communications and proceeded to establish a production telecasts of local football games on cable television and WARL radio. Thanks to the tireless and successful efforts of Peter Gay, local football fans will be able to follow their favorite teams and their favorite players, many of whom will someday join him in the Attleboro Area Football Hall of Fame. Peter joins his father, Bucky Gay, Honorary Inductee and the first Chairman of the Hall of Fame.
---