Biography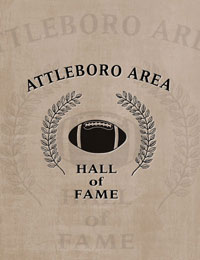 Although his playing career involved only one fumble recovery in an otherwise unremarkable season as a junior varsity defensive lineman, Tony Calcia has had a huge impact on North Attleboro High School football. He has established himself as one of North Attleboro's most loyal supporters and the architect of some of its most enduring recent traditions. Beginning in 1977, Calcia began a 16-year stint holding the chains along side various North legends, including fellow Hall of Famer William "Hawkeye" Kummer. In 1984 Tony and the Bayberry Road gang hosted the first annual senior supper for the senior players, their fathers and the coaches. Three years later, Tony produced the first ever "Big Red" Highlight Film that has provided a priceless keepsake for graduating North players. Both the senior supper and the highlight film remain important traditions today. In addition, Tony Calcia has emceed the Attleboro Area Hall of Fame banquet twelve times, bringing both humor and stability to this important evening of shared Thanksgiving tradition. In 1988 he took over the reigns of the North Attleboro Park & Recreation Department and has turned into the premier Park & Rec. Department in the area.
Undoubtedly, Tony's most important contribution to North football has occurred since 1993 when he made the transition from loyal supporter to volunteer assistant coach. Responding to Coach Ray Beaupre's initial invitation to supervise the scout teams during pre-game in 1992, Tony volunteered and has embraced that role daily ever since. It is no coincidence that North's record while Tony has run the scout teams during practices and in pregame is an impressive 84-12.
In the spirit of volunteerism that has characterized the contributions of other Honorary Hall of Fame members, Tony has never been compensated for any of his efforts on behalf of North Football. His unselfish contributions have enhanced the Big Red experience for a generation of players and their coaches.
---