Biography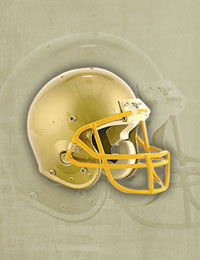 They called him "Hawk" and, true to his monicker, he preyed upon ball carriers and devoured them with precision like quickness and power. David "Hawk" Deschenes was one of the driving forces in Bishop Feehan Football in the early 70's. A player who one opposing coach said he feared, Hawk was the physical presence on teams which were a combined 11-4-2 in his junior and senior year. As a junior he alternated at FB with his cousin, Paul, but, as a senior, when the team needed a center to anchor the offensive line, Deschenes stepped in and did the dirty work only a lineman could appreciate.
However, it was from his position as Middle Linebacker that Deschenes was most effective. In his junior year, he was instrumental in shutting out Taunton in a 13-0 upset in the season opener. As a senior, he was the leading tackler in victories over Durfee and Dartmouth. In a Feehan win against Fairhaven, he had a pass interception and fumble recovery. Coach Paul O'Boy described his performance against Coyle as "outstanding" in a 35-0 Homecoming victory. Finally, in his last game, Hawk led the Shamrocks to a 21-10 win over Bishop Stang on snow covered Dartmouth Stadium with 12 tackles, including four for losses. For his outstanding performance in this contest, Deschenes was awarded the LG Balfour Trophy as the game's Most Valuable Player. Hawk was further recognized in the post season by being named to several All Star teams in the media. Coach O'Boy described him as "aggressive, hard hitting, and a true team player."
In addition to his football prowess, Deschenes was also an outstanding baseball player. A powerful hitter and a rock solid third baseman, he was known for knocking down shots to the hot corner with his chest and throwing the runner out with a bullet to first. Bishop Feehan has produced some rock-em, sock-em linebackers over the years but none played with any more intensity and any more pride than David "Hawk" Deschenes.
---