Biography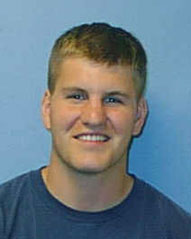 Dave Reed was a special type of kid. For three seasons, '95-'97, he was the starting tight end for the Red Rocketeers. He was used sparingly as a receiver in North's run dominated offense, but he did catch 5 passes for 76 yards and one touchdown. Offensively the 6'3" 217 lb Reed was one of the best blocking tight ends in North High history, and defensively he was a force from his end position. Reed could always be depended upon to execute his responsibility flawlessly on both sides of the ball. He understood the offense and knew what each play was suppose to accomplish. Coach Paul Sullivan said it best, "Dave doesn't make a fundamental mistake. He does things that go unnoticed. He's never satisfied with his own play."
Dave made his first start in 1995 as a sophomore against Bishop Feehan. In a hard fought 15-13 victory he established himself at the tight end position. For the next three seasons the big tight end was an important blocker for Hall of Famers Brian Droney, Mark DeBiasio, and Ethan Hamilton. During those three years North won 30 games and lost just 4 while accumulating an astonishing total of 909 points.
During his junior season Dave became a fine two-way player. His discipline and defensive technique made him one of the areas best defensive ends. His run containment allowed his linebackers to control the line of scrimmage. During his senior year he spearheaded a defense that did not allow a point in the first quarter all year and only allowed 11 total points in the first half. The Sun-Chronicle described Reed as "a player who did a lot of the dirty work that goes unnoticed by everybody except coaches and the opposition." Dave Reed captained the 1997 Rocketeers, leading them to an 11-1 record and a 20-14 Super Bowl win over Swampscott.
Reed was recognized for his accomplishments by being named as a Sun-Chronicle All Star as a tight end and as Hockomock League All Star as a defensive end. Academically Dave was ranked second in his senior class at North High and was recognized as a National Football Foundation Scholar-Athlete. After graduation he attended Dartmouth College where he played football four years. He is currently pursuing a degree in medicine at Ohio State University.
---