Biography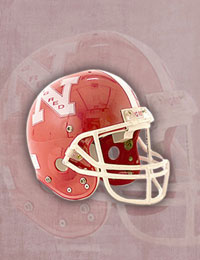 Jim Seekell was a starter for the Red Rocketeers during the 1973 and 1974 seasons. As an offensive tackle and a defensive end the 5'11" 185 lb. Seekell was instrumental in leading the Rocketeers to two Super Bowl Championships and an overall record of 20 wins and 1 loss. Jim was known as an intelligent hard-nosed player. His blocking ability was a key in allowing North's wishbone offense to run roughshod over the opposition.
The highlight of Jim's junior season was North's big Super Bowl win over Pope John. Matched up against Pope John's best defensive lineman, who had a tremendous size advantage, Seekell dominated, enabling North's ground game to eat up huge chunks of yardage.
As a senior Jim was called on to play on both sides of the ball. He answered the call making 37 tackles and assisting on 37 others. As a defensive end he was also responsible for 2 fumble recoveries and 3 pass interceptions. When the game was on the line Jim was always in the thick of things leading his team to an undefeated 11-0 season and another Super Bowl victory.
At the end of his senior year Seekell was recognized for his efforts by being selected to both the Hockomock League and Sun-Chronicle All-Star teams.
Jim currently resides in North Attleboro and is a sergeant on the Mansfield Police Department.
---