Biography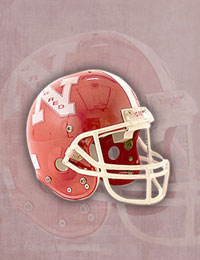 Mark De Biasio was a talented running back who cut his teeth early when he was summoned to the varsity during his freshman year. Although vastly undersized, Mark contributed 28 carries and 90 yards that season, and was a starter in North's "Miracle in the Mud" 19-16 upset win over Attleboro on Thanksgiving Day, 1992. Undeterred by a sophomore season that saw him carry only six times due to injuries, De Biasio asserted himself as a legitimate threat in the Big Red's wing-t attack as a junior, rushing 32 times for nearly 11 yards per carry and 3 TDs. He also contributed 14 tackles and 5 assists from his linebacker spot on defense.
However, it was during the 1995 campaign that De Biasio made his permanent mark on Big Red football. The senior tri-captain excelled on both sides of the ball while leading North to a 10-1 record that resulted in a Hockomock League Championship and Division III Super Bowl appearance. Mark's stellar senior season saw the prototype wing-t fullback break a number of late game runs through the middle of opposing defenses to seal victories. Clearly, Mark's most inspiring effort came against the physical Franklin Panthers. Behine 26 to 6 with 3 minutes left in the 3rd quarter, North rallied for an improbable 29-26 victory on the legs of a number of quick-hitting De Biasio traps. By season's end, he had rushed 97 times for 733 yards and 7 TDs, and he also finished among the team leaders in defensive statistics by tallying 37 tackles and 11 assists. during the 1995 season, the tandem of De Biasio and fellow Hall of Fame inductee Brian Droney averaged over 6 yards per carry, rushed for over 1,300 yards, and scored 22 TDs.
For his effort, Mark was recognized as the Offensive MVP of the Hockomock League, and he earned selection to both the Sun Chronicle and Boston Globe All Scholastic teams. An outstanding student, Mark also received the prestigious National football foundation Hall of Fame Scholar-Athlete Award. During his outstanding four years of varsity football, Mark averaged over seven yards per carry and gained over 1,200 yards.
After graduation, Mark attended Salve Regina University. While earning his Bachelor's Degree in Biology, Mark was also a three-year co-captain in football, a two-year Academic All-American, and was the recipient of the Eastern College Athletic Conference Robbins Scholar-Athlete Award.
---