Biography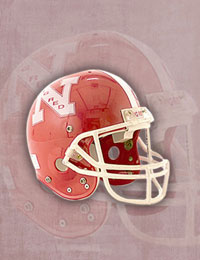 It would be tough to find a high school athlete who loved the game of football more than Tom Bury. His love for the game coupled with his friendly personality made Tom a great teammate and a coaches' dream. There was never a Rocketeer football player who worked harder on the practice field and performed with more intensity on game day.
Bury was the king pin of the Big Red defense during the 1979 and 1980 seasons. From his nose guard position his quickness, speed, and desire led a North defense which allowed an average of 8 points per game. In 13 of those 20 games Tom and his defensive mates allowed one touchdown or less.
As a junior Tom wasted no time in establishing himself as one of the areas top defensive players. He was outstanding in a 7-0 win over King Philip with 8 tackles and 3 assists. For the season Bury was one of the team's defensive leaders with 68 tackles and 13 assists.
In 1980 Tom returned to his nose guard position bigger, stronger and loaded with confidence. He was immense in 7-6 victories over both King Philip and Foxboro. He finished his high school career with another defensive gem against Attleboro. The North defense led by Bury stopped the Blue Bombardiers scoring drive to preserve a 9-7 victory. Tom led his team in 1980 with 81 tackles and 38 assists, his teammates selected him as their defensive player of the year.
Tom Bury was recognized for his defensive achievements by being selected to both the Hockomock and Sun-Chronicle All-Star teams. The newspaper described Tom as one of the most talented and durable defensive lineman in the area.
---