Biography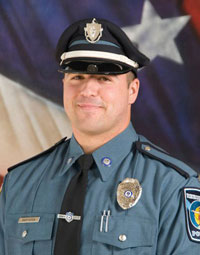 An outstanding linebacker with tremendous football instincts, Tim Batrucca helped set the tone for the Red Rocketeer defense in both his junior and senior seasons. Tim led the team with 110 tackles as a junior in 2002. As Captain in 2003 Tim battled through ankle injuries yet once again lead the team with 54 tackles, ran the ball for 303 yards and 4 TD's, and as the Rocketeer's punter averaged almost 38 yards per punt.
Tim's most significant football memory came during his junior season in 2002 when Tim and the Big Red defeated Swampscott 44-40 in the most memorable offensive showdown in Massachusetts High School Football History. While Tim was best known for his defensive prowess throughout the season, he showed his athletic ability on offense rushing 22 times for 135 yards and 4 TD's in helping the Red Rocketeers secure their 7th Eastern Mass State Championship.
Every season, Tim looked forward most to playing Foxboro. While the intensity of this local rivalry needs no explanation, this was Tim's opportunity to square off against his father who coached the opposition. Two of Tim's cousins also played for Foxboro. Tim recalls not speaking much to his father for the week leading up to the game. In his senior season, Tim set the tone on the first series for the Big Red defense where he pursued the Foxboro quarterback and forced an incomplete 4th down pass. Tim later helped secure the Big Red victory and ended Foxboro's hopes of a comeback with 4 minutes remaining by sacking the Foxboro QB for a 12 yard loss.
For his outstanding junior season at linebacker in 2002, Tim was voted the team Defensive MVP. He was named to the Hockomock League and Sun Chronicle All-Star Teams in both 2002 and 2003, and was also selected to play in the annual Massachusetts Shriner's Classic Game in 2003. Tim was later awarded the Thomas G. Bury Scholarship Award.
Tim continued his gridiron success at Worcester State College playing defense and punting until graduating with a Bachelor of Science in Criminal Justice and a Bachelor of Science in Sociology. Tim currently serves the Community of Rehoboth as a Police Officer.
---