Biography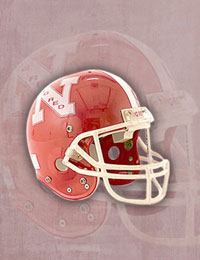 Whatever Scott Andrew was asked to do on the football he did it and did it well. He was an important player on both the offensive and defensive teams during the seasons of 1975 and 1976 for North Attleboro High School. Offensively his speed and quickness enabled Scott to be successful as a running back one year and an offensive guard the next. His toughness and tenacity were key ingredients to his success as a defensive end and linebacker in successive seasons.
The program listed Scott as 5' 10" and 165 pounds. He might not have been big in stature, but he certainly played big on the field. In 1975 he earned the respect of his coaches and teammates as a devastating tackler on kickoff teams. He had 12 tackles on kickoffs alone. That same season he was the team's defensive player of the game against both Sharon and Oliver Ames. In a 27-0 shut out of Sharon, Scott had 8 tackles and 2 assists. Later that season, in an 18-7 victory over O.A., which secured the Hockomock League Championship, Scott had 4 tackles, 6 assists and 3 pass interceptions.
In 1976, co-capt Andrew was one of the five returning starters from an undefeated team. After being one of the seven ball carriers to gain more than 100 yards the previous year, Scott was asked to move to offensive guard. He did so with great success. He became a mainstay in a line that enabled Hall of Famers Mike Kummer, Mark Rioux, and Dan Delvecchio to revitalize Big Red's wishbone attack.
Scott Andrew played on North teams that won Hockomock and Super Bowl titles. During his tenure the team enjoyed a 22 game winning streak. Scott's versatility and leadership were instrumental in his team's success.
---