Biography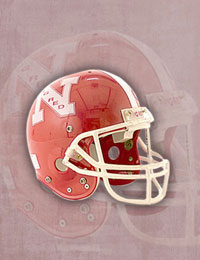 At 6'1", 205lbs. and a National Honor Society student, John Bedard was a dominant two-way player at both offensive and defensive tackle who used his strength, size and intelligence to accomplish his assignments.
In 1983, "Jake" enjoyed some of his best all-around play against his cross-town rivals from Attleboro. Facing a severe size disadvantage on opening night against Bishop Feehan, the underdog Rocketeers rolled up 344 yards of offense behind the solid protection of Bedard, then defensively held on for a thrilling 12-7 victory as time expired with Feehan at the North 16 yard line. Two months later against Attleboro on Thanksgiving morning, the spirited Bedard and his defensive teammates held the Bombadier offense to 80 total yards in a 33-0 victory - at that point the second largest victory for any team in the 63 year series.
In between those two games, the Sun Chronicle recognized John as a Player of the Week after his fmal Hockomock League game against Oliver Ames, citing "the solid blocking of the Rocketeer's senior tackle. Bedard was also a standout defensively as North pinned the Tigers inside their own 35-yard line and without a first down during the second half."
In two defensive seasons, Bedard's statistics included 50 total tackles, 21 assists, and 2 fumble recoveries, with one of those coming the final three minutes against Sharon to preserve North's 12-6 victory during his senior season. Led by the presence of Bedard, North's defense in 1983 limited 7 foes to one touchdown or less on their way to an 8-2 record and a #4 ranking EMass Div III.
For his senior season efforts, Bedard was recognized by being named to the Evening Times, Hockomock League, and Boston Globe Div III All Star Teams.
---