Biography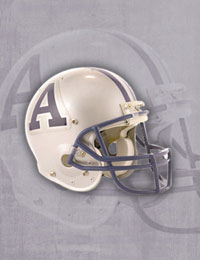 As a two year starter in 1991 and 1992, halfback Jamie Warchol proved to be one of the most versatile and exciting players to ever wear the Bombardier Blue and White. The 5'9" 1651b. "dynamo" was an outstanding open field, cut back runner, skilled halfback option passer, great return man, excellent receiver, and a tough defensive back.
On a very talented 1992 AHS Super Bowl team Warchol totaled 154 carries for 1007 rushing yards, had 11 pass receptions for 250 yards, gained 246 yards in punt and kickoff returns, and had 4 pass interceptions including one returned for a touchdown. In all, Jamie had 17 touchdowns on the ground and threw for two more. In a big win over Franklin, Jamie "was on fire" as he rushed for 121 yards, gained 78 yards on kick returns, and threw for 35 yards for a 230 yard offensive effort. In Attleboro's Super Bowl clinching 35-13 victory over a powerful Dartmouth team, Warchol again gained over 230 yards as he rushed for 106 yards 2 TD's, had 35 yd TD reception, added 45 more yards on kick returns, and intercepted a pass with a 30 yd runback to set up a key Attleboro score.
The outstanding "gravity defying halfback" thrilled Attleboro fans, devastated opponents and impressed coaches and the scribes as he was selected to the All Sun District and All EAC All Star team and will be remembered as one of Attleboro's most exciting players.
---