Biography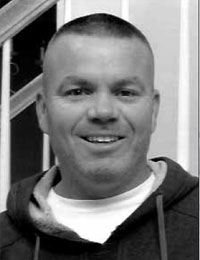 Kevin Cummings was a force for legendary AHS coaches Joe McKenna and Chet Hanewich football teams during his three varsity seasons between 1983-1985. Cummings was a fierce competitor with a mean streak that his opponent's respected, but often they woke up the next day remembering each encounter as a result of Cummings' physical play. During Kevin's three AHS campaigns he played along the offensive line, anchored the defense from his linebacker position, and stood out through his exploits on special teams.
As a junior Cummings was a steady force for the 8-1-1 Bombardier team. Cummings shared kicking duties with Hall of Famer Greg Payette, as Kevin converted (8) PAT's with his steel toe cleat, old school style. Cummings was instrumental in securing a hard fought 20-13 victory over the Falmouth Clippers with "two successive plays for losses of four and ten yards" from his linebacker perch. On Thanksgiving Day 1985 at Tozier-Cassidy Field, a day many remember as the "Pederson to Payette Game", Cummings made many defensive plays, none more important than on a North Attleboro drive deep into AHS territory which was halted by tackles by Phil Paquin & Cummings, resulting in a field goal for North instead of a touchdown. That AHS defensive stand in the third quarter help set-up the heroics of "Pedersen to Payette", where after Steve Pedersen connected on a 38 yard pass to Payette with 1:36 seconds left in the game, Cummings converted on the extra point to secure a 7-3 victory over the Red Rocketeers.
Kevin continued to be a strong presence on the field for the Bombardiers during his senior season, where his constant effort and football knowledge resulted in positive plays for the Blue & White. Whether making the big block to free-up sophomore quarterback Jim Hanewich to find Hall of Fame split end Scot Sackett for another first down, or opening a hole for Kevin Candelet to pick up a large gain on the ground, Kevin Cummings becomes the first football player from his graduating class of 1986 to be inducted into the Attleboro Area Football Hall of Fame.
Cummings received numerous awards including Pawtucket Times All Star, Francis Driscoll Scholarship & Robert J Coelho Memorial Award for Leadership.
---