Biography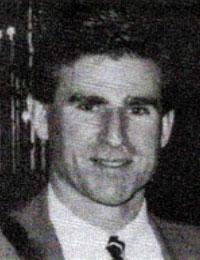 In an era of outstanding AHS teams, and outstanding players, Greg Butterfield stood our as one of the best at his position in Bombardier history. A powerful 5'11" 190 lb. offensive center and defensive linebacker, Butterfield was selected team MVP on a 1972 Blue and White squad that included Hall of Famers Todd Holt and Fred Pardey. Greg, who came from a fine football family, was known for his swift, hard-hitting style. His devastating blocks and his steady, intelligent leadership skills were critical to Attleboro's potent championship teams.
Tri-Captain Butterfield was even more outstanding on defense from his linebacker position. Smart and very tough, Greg was great at anticipating the running play, filling the hole, and punishing the opposing backs. He was just as adept at killing the opponents passing game with his ability to pick up receivers out of the backfield and knock down or intercept their passes.
An All Sun District and All conference selection in 1971 and 1972, Greg Butterfield was clearly one of the Bombardier's great two-way players.
---