Biography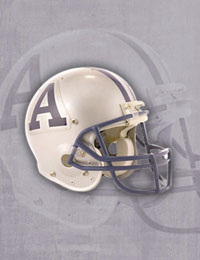 In 1992, 1993, and 1994, the talented Blue Bombardiers proved to be three of the best teams in AHS history. Although they were loaded with outstanding players, none were as dominant as tight end/defensive end Chris Bums. A three year starter, the tough 6'3" 240 lb Bums was a true impact player who could change the direction of the game or force the opponents to alter their game plan.
As a tight end, Bums was a devastating blocker who could also go downfield and make the clutch, aerobatic pass reception. And, in spite of frequent double coverage and Attleboro's powerful running game, Chris grabbed 40 career passes for 826 yards and five touchdowns. As a defensive end, Chris was in a league by himself. He could completely close down his side of the field "and force opponents to run the other way." During his brilliant three year defensive career, Bums was credited with 148 tackles - 78 were unassisted stops - 12 QB sacks, 3 fumble recoveries and 1 pass interception which he ran back for a touchdown.
Chris was selected as the 1994 Turkey Day Defensive MVP for his outstanding play in a 22-8 win over North Attleboro; he was also a three time first team All Sun District selection as well as a two year first team selection to the EAC All Star Team. In addition, Chris continued his football career at Northeastern University where he was a four year defensive starter. Chris Bums clearly proved himself to be one of the most dominant players to ever wear the Blue and White of AHS.
---