Biography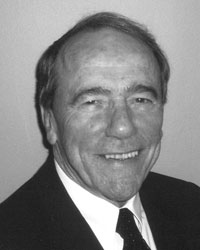 Richard "Dick" Barrett was a member of the 1953 Attleboro Blue Bombardier football team, a team that was more commonly known in the community as the "Toziermen". Barrett, wearing #68, played quarterback on legendary AHS coach Howard Tozier's last team. The athletic Barrett joins teammates, John Lepper, Bob Lepper, Rollie Kerkhoff and Dick Pariseau in the Attleboro Area Football Hall of Fame.
In leading the Blue & White in their season opener at Hayward Field, the speedy Barrett was "like a flash of lightning" racing pass the Durfee defense for a 70 yard touchdown run. Attleboro went on the beat Durfee 20-0 as Barrett also threw for another AHS score. In beating Fairhaven 35-7, Barrett scampered for three touchdowns and threw for another 6 points as Attleboro rushed for 230 total yards. In a 19-0 victory over New Bedford, Barrett "took things into is own hands" as he found paydirt once again for the Toziermen. When Dick was not running or handing the ball off to his brother Bernie, he would often find sure handed Bruce Rigby with a "jump pass" as he did from 10 yards out to help the Bombardier's beat a powerful Barnstable squad at Hayward Field, 13-7.
Barrett was selected captain for his AHS team on Thanksgiving Day against North at Community Field, which was quite an honor as this was Coach Tozier's final game. AHS fell to North, but Barrett finished his senior season rushing for 7 touchdowns and passing for an additional 4 TDs, in a time when passing was not the norm.
Dick, who joins his son Ted (NAHS Class of 1983) in the Hall of Fame, was honored by the Boston Record American All Scholastic Team for his success on the gridiron. Dick received a full scholarship from Northeastern University, and he later graduated from Bentley College. Dick currently resides in North Attleboro with his wife Judy, where he is a self employed certified public accountant and enjoys spending time with his four children and grandchildren.
---