Biography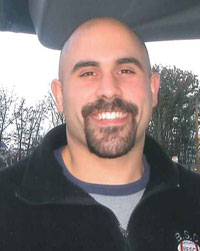 Nick Bosh, who is the youngest of three Bosh brothers, attended many practices and games prior to finally stepping onto Tozier Cassidy Field for the Blue & White of Attleboro High School. Once on the field, however, all the watching paid off as Bosh anchored his offensive line and stonewalled offenses with outstanding defensive line play. Nick's leadership, hard-work, attention to detail and passion to play for the Bombardiers was evident, so Coach Cliff Sherman quickly rewarded Bosh with a place on the right side of the line alongside Hall of Famer Geoff Raby. The duo solidified the right side of the line of scrimmage during the next two seasons.
The 5'11" 230-pound Bosh opened up holes for Hall of Fame backs Jason Baker and Tim Slowey in helping the Bombardiers run-up an 8-2 EAC record, and a trip to the Division 3A Super Bowl against perennial powerhouse Marshfield High during his two stellar seasons at AHS. The physical Bosh routinely manhandled his opponent, whether from his right tackle position on offense or from his defensive tackle position. "Nick was our power guy" Coach Sherman said of the team's senior co-captain. When tough yards were needed, the Blue & White offense ran over the right side behind Bosh and Raby. Bosh also excelled on special teams. Nick's key tackle after a bad snap set-up the game winning touchdown a few plays later, as AHS went onto upend the defending Eastern Mass Division 1A Super Bowl Champ Barnstable Red Raiders in Barnstable 18-15. Bosh had 78 tackles and one sack, while forcing one fumble and recovering three other fumbles during his senior campaign. In defeating Dartmouth 41-0, Bosh and his defensive line mates allowed just 37 total rushing yards in route to the shut-out.
Nick Bosh, who joins his brother Matt in the Hall of Fame (1993), was selected to two EAC All Star teams while being selected to the Sun Chronicle All Star team his senior year. Bosh was also recognized for his outstanding defensive line play during his final season as he was selected the Bombardiers Defensive MVP. Bosh continued his football career at Bridgewater State College where he started three seasons, and he was selected a captain during his senior year. Nick currently resides in Pawtucket, RI with his wife Heidi and their son Cayden.
---