Biography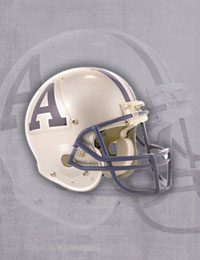 When Matt Bosh decided to end his one-year hiatus from football to suit up for his junior year, he instantly became the cornerstone of the Attleboro High School offensive line for the next two years. His hard work, determination & presence lifted the Bombardiers from a respectful team his junior season, to the schools first Super Bowl participant in his senior season. Matt used his quickness and agility to open sizable holes from his guard position or downfield while pulling for one of his two Hall of Fame running backs. The mature & powerful Bosh also excelled on pass protection, which resulted in more than 1,000 yards of passing offense & 16 touchdowns. At 5' 10" 1901bs., "Boshy" was also a standout at his defensive end position. His stay at home attitude and game planning seldom resulted in a missed assignment.
During Matt's junior year the Bombardiers were retooling their football program under first year head coach Cliff Sherman. Bosh came up big during a 20-16 win against Bishop Feehan at Hayward Field when he secured the Elk's Trophy for Attleboro with a fumble recovery after fellow inductee Carl Haynes sacked the Feehan quarterback. Returning for the 1992 campaign a bigger and stronger Bosh and the Bombardiers were determined to have some success on the gridiron. Bosh was a big part of the teams Division 3A Super Bowl season, which resulted in a season record of 8-3. Coach Sherman stated, "Matt was one of our leaders on the field, both offensively and defensively." In the season opening 14-12 victory over highly touted East Bridgewater, Bosh was instrumental on scoring drives of 82 & 85 yards. The Sun Chronicle exclaimed, "Bosh was the Bombardiers' John Hannah, the player behind whom they'd run when they needed the tough yards." While defending his left end position during a game at Franklin, Bosh played a screen pass to perfection and intercepted the pass and scampered 10 yards to paydirt in route to a 19-6 victory.
Bosh was selected to the All Sun Chronicle, All Evening Times, and All EAC All Star teams during his senior year. The dedicated Bosh continues to influence the Attleboro High School football program as a coach. He also is the head baseball coach for the Bombardiers when he is not marking up the chalkboard as a 5th grade teacher at Coelho Middle School in South Attleboro.
---